Thursday 28th November 2013- Rain on parade fails to dampen high spirits of Lord Mayor's show
Thu, 28/11/2013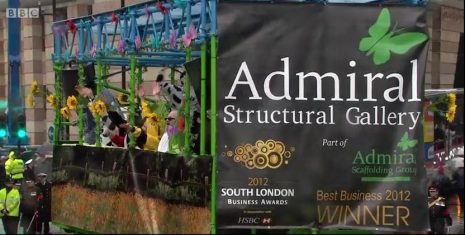 Scaffolding company ticks all the boxes for new Lord Mayor's objectives
With over 7000 participants, 50 horses, two ships, a helicopter and a camel taking part, rain was never going to mar the enjoyment of the huge crowd of spectators lining the streets for the 2013 Lord Mayor's show.  This year's procession from Mansion House to the Royal Courts of Justice was particularly significant, marking the inauguration of only the second female Lord Mayor of the City of London, Alderman Fiona Woolf.
The role of the Mayor is to serve as a global ambassador for UK-based business and financial services and Alderman Woolf has announced her tenureship will be based on the theme Energy to Transform Lives through sustainability, diversity and charity, which she views as critical to our resource-constrained society.
These objectives are a challenge for any business to implement but one company already ticking all the boxes is The Admiral Scaffolding Group. The London based big ticket construction company, who participated in the procession for the third year running, has undertaken a complete organisational restructure to include working on improving its business skills as well as being more environmentally responsible. The hard work has paid off as it is now an award winning business, gaining accolades for its training skills, environmental awareness and business acumen. In addition, last year Admiral Trust, the charitable branch of the business was set up by company MD Terry Withers, Roy Anklesaria, and Zarina Naqvi from business consultancy group Maxima Associates.
"We know that the world is changing and that funding for social welfare will have to be managed differently. The days of the government funding in the way the baby boomers know it, is over." Terry went on to say "It's going to be up to us, businesses, to participate more in society by using our resources, be it funding from our profits or sharing our business skills with charities to partner in this arena. The Lord Mayor's show and Alderman Woolf's theme for this year is an excellent example of what can happen when we have a shared vision and work together"
Admiral's spectacular float with its brightly coloured decoration can be seen here as it travels through the City streets. The enthusiasm of the Admiral staff dancing to YMCA, caught the eye of the BBC commentator on the live global broadcast, with MD Terry Withers getting a special mention in dispatches in setting up the Admiral Trust charity .
How can we help?
Simply fill out our quick enquiry form below to get the ball rolling.