Scaffolding company Rocks London Fashion Week
Mon, 12/03/2012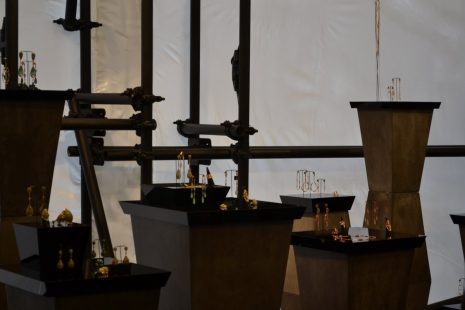 Fashion and scaffolding are not two words normally voiced in the same sentence but The Admiral Scaffolding Group, the Wimbledon based construction company, is working hard to bridge the gap between the two industries.
Thanks to its recent restructuring and strategic business training the company has transformed itself from a traditional business into a modern, forward-thinking operation.
The huge benefits of the training have led to an expansion of its clientele which now includes the fashion and entertainment industry. The company has already worked on the TV programme "Help My House is Falling Down" and its recent display at TOPMAN in Oxford St led to the company being invited by London Fashion Week to both design and construct an installation to house the British Fashion Council's Rock Vault project.
This was a new initiative developed by the BFC to support the talent of creative jewellery designers. The idea was to allow them to showcase their work alongside London Fashion Week providing an opportunity to promot e Britain's most innovative, fine jewellery talent. Located on the Terrace of Somerset House, the 40m structure was designed by Admiral Designer Luke Hunma, and constructed by Contract Manager Graeme Rolbiecki and his team.
Discussing the remit everyone agreed the construction shouldn't be just a practical support but a highly visible element, contributing to the look and design of the whole presentation. The end result, as the images show, was impressive with the construction providing a perfect stage for the designers to promote and display their work.
Laura Withers, Marketing Director at Admiral Structural Gallery said "LFW runs with New York, Paris and Milan as being one of the most creative and innovative events on the global fashion calendar so to be asked to participate in such an event was fantastic. It shows that construction and creativity can work together. Admiral Structural Gallery was able to build a mutually b eneficial relationship between the two businesses helping to remove the anxiety from designers who do not really have the experience of working with construction contractors.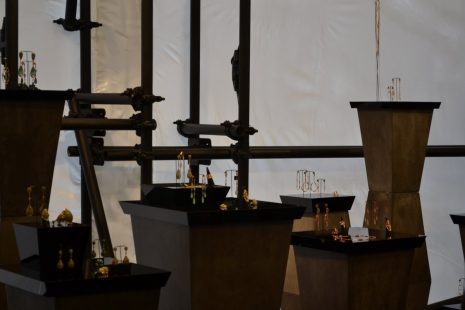 Thanks to the business training and restructuring of the company this has been a great example of how we have been able to expand into fields not normally associated with our industry."
Admiral Structural Gallery is a division of Admiral Scaffolding Group focusing on aesthetic construction and design. It delivers scaffolding and rigging services to the Visual Merchandising, Events, Media and Advertising Industries. CONTACT DETAILS Laura Withers – 020 8971 3130 laura@admiral-scaffolding.co.uk
How can we help?
Simply fill out our quick enquiry form below to get the ball rolling.