Blue to white- Operatives brave the rain to get rail jobs complete
Fri, 07/02/2014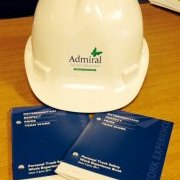 Our operatives have braved the horrendous weather in the last few weeks to get the Network Rail jobs completed on time.
Having to get their log-book signed each time they are on track allows Admiral and Sentinel to monitor their experience, and subsequently progress their qualification. Four of our operatives advanced from a blue to a white helmet this week, having completed four entries in their log-books and having them officially signed off. Admiral as a sponsor is responsible for this progression and we are extremely happy with our lad's work and congratulate them on their progression.
How can we help?
Simply fill out our quick enquiry form below to get the ball rolling.